Like I already mentioned last week, barycentric combinations are special linear combinations of points. Before we can examine what's so special about them, we first have to take a better look at linear combinations themselves.

What's a linear combination of points? Let's say we want to take a linear combination of n points P[0], P[1], ... , P[n-1] and we call the result Q.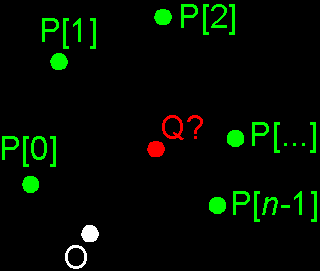 To calculate Q, you simply take the sum of all points P[0], ..., P[n-1] in which each point P[i] is scaled with a real factor. That factor is called the weight-factor of that point and is written as w[i]. The weight-factor w[i] of each point P[i] determines how much that point affects the sum. It tells you how much the point Q is influenced by the point P[i].

This all looks like this:

Q = w[0]*P[0] + w[1]*P[1] + w[2]*P[2] + ... + w[i]*P[i] + ... + w[n-2]*P[n-2] + w[n-1]*P[n-1].

In maths, we abbreviate this as follows:








If you don't know what that weird S-symbol means, you should check out remark 1, because we're going to use it quite a lot this issue. If you don't feel comfortable with it, then you might write out each of these. It will help you to understand it.

So, Q is the sum of P[0] to P[n-1] in which each P[i] has a weight factor w[i]. But now you ask: "What does it mean, that sum of points? How do you apply those weight-factors? You've never talked about *that*!" Well, I'm going to do this right now ...

What does that sum mean? Well, you remember last issue, where I asked you to add 2 points together? You couldn't do that until I showed their place vectors. Then your instinct tried to add those place vectors together (at least, let's hope so). This was very logical, but unfortunately *wrong* because it depended on the origin. It still does, but later in this issue we'll see how to solve that problem by choosing the weight-factors very carefully. So, *for now*, to add those points P[0], ... , P[n-1] together, simply add their place vectors OP[0], ... , OP[n-1]. And then you become the place vector OQ of the resulting point Q. Don't worry if it depends on the origin, we'll solve that later.

How do you apply those weight-factors? Now you know that we actually summon the place vectors (In other words: we take a linear combination of the place vectors), you should easily see that this multiplication of a real value w[i] and a point P[i] will be replaced by a simple scalar product w[i]*OP[i]. And we all know what that scalar product means: it scales the magnitude of the place vector.

I'll give you here a little example to show you how easy it is. Say you have 3 points P[0], P[1] and P[2] (I didn't draw these points explicit in order to not overload the already overloaded picture, but as you know, these points are the heads of the 3 place vectors OP[0], OP[1] and OP[2]). Now you want to know the following linear combination of these points: Q = 3*P[0] + 2*P[1] + (1.5)*P[2]. How do we do that?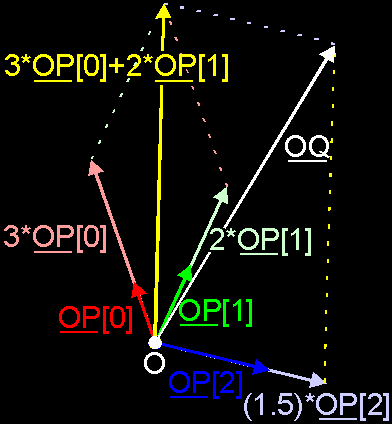 Well, as I've already said, the point Q is given by its place vector OQ which is found by exactly the same linear combination of the place vectors: OQ = 3*OP[0] + 2*OP[1] + (1.5)*OP[2]. To calculate this, you first construct the 3 scalar products 3*OP[0], 2*OP[1] and (1.5)*OP[2]. Then you add 2 of these scaled vectors together, e.g. 3*OP[0] + 2*OP[1] which give you the yellow vector. Then you add the 3rd vector to this sum which gives you the white vector OQ. I hope this is clear enough, otherwise you should try this on a sheet of paper.

So, the linear combination of points has become a linear combination of vectors ...