The cross product U×V is a vector given by the following definition:
1. The direction of U×V is perpendicular to both U and V.
2. Its sense is given by the rule of the corkscrew: If you turn your fingers from U to V, then the sense of U×V is given by your thumb. In right-handed systems, this has to be done with you right hand. (Normally we always use right-handed systems. We'll talk about this later on.)
3. Its magnitude ||U×V|| is given by the area of the parallelogram given by vectors
U and V. This area is equal to ||U||*||V||*sin(theta) with theta the angle enclosed between vectors U and V.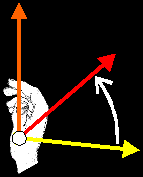 Notice that:
° U×V is perpendicular to both U and V. In the future, this will be very, *very*, *VERY* important!
° U×V is not the same as V×U . In fact: U×V = –V×U .
° What is V×V? There are more than one vectors that are perpendicular to "V and V". We define V×V=0 because "the area between V and V" is 0 .
° What is 0×V? Because each vector stand perpendicular to 0, you can find more than one vector that is perpendicular to 0 and V. We define 0×V=0=V×0, because "the area between 0 and V" is 0 (||0||=0) .
° What means U×V=0? U×V=0 if ||U×V||=0. This means that the product ||U||*||V||*sin(theta)=0 . This product is 0 if ||U|| or ||V|| is 0 (in case of a null vector) or if sin(theta)=0. In that case theta is 0° or 180°. This means that U and V have the same direction.
° Similar to the dot product, if you divide the cross product by the magnitudes of both vectors, you get the sine of the angle between U and V: (U×V)/(||U||*||V||)=sin(theta). You shouldn't use this to find the angle itself, because...
1. it's much slower than using the dot product way and
2. the angles theta and (180°–theta) have the same sine value! If you used an inverted sine function to find the angle between 2 vectors, you wouldn't be able to distinguish between e.g. 30° and (180°-30°)=150°, which is definitely a different situation!





OK, that's it for today. Next time, we will continue with our vector arithmetic, but first a little exercise =] :

Given below is the triangle ABC, and the point D is in the middle of points AB (so the distance between A and D is equal to the one between D and B, hint :). You only know the vectors CD and DB. I want you to express the following vectors as a combination (addition, subtraction, negation, multiplication) of those 2 vectors: CB, AD, DA, AB and CA. You can use free vectors. So, get started with the puzzle and I'll see you next week.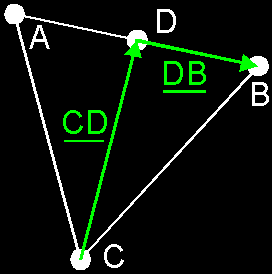 Regards,
Bramz