What A Title! You probably already know what the cartesian coordinate system is, don't you. Here, we use a righthanded orthonormal coordinate system. Well, just look at this picture: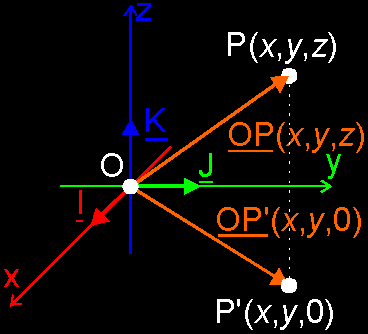 The origin of our vector space is, of course, also the origin of our cartesian coordinate system.

The different axes (x, y and z) fall together with the base vectors (I, J and K): x with I, y with J and z with K. Each base vector has the same direction and sense like each axis. Notice the non-italic small letters that indicate lines and axes.

All base vectors have magnitude 1, so their heads fall together with the unit points on the axes. Through this, the base vectors are the place vectors of the unit points. And it's because of this that the unit points are called I(1,0,0), J(0,1,0) and K(0,0,1).

But, it's up to you to realize the next thing, it's already mentioned in the picture. The coordinate values of a point are the same values as the component values of its place vector. What a sentence! I can't really explain it, you have to see it:

Take a point e.g. A(1,2,3) and pull its place vector to it. What are the component values of the place vector? What linear combination of the base vectors you need, to construct that place vector? Try some other points and then, you need to make the step to a general point P(x,y,z). Do you really see that the component values of its place vector OP is (x,y,z) too? This should illustrate that when we talk about points in our numerical 3D space, we immediately have to see the vector behind the point.

You definitely need to see that if you store your point in the computer, because you store the place vector instead of the point. In plain English, you actually store the coordinates of the point in a vector. In this way, the place vector and the point itself have become - in your computer - *one* object: a vector object. If it is so in your computer, you should do the same in your head: always consider a point and its place vector as one object!