When we want to play around with geometry, we need a space to work in. Normally, for our purposes, this is 2D space or 3D space. It might sound a bit weird to talk about a 2D "space", while its still as flat as the plane. It's just so that for higher dimensions (4D, 5D, ..., nD) we also talk about 4D space, 5D space, ..., nD space; so it's logical to talk about 2D space too. And in that way, we don't confuse 2D space with a ordinary plane in 3D.

Once you've got your space, you can make geometrical drawings and examine attributes of triangles, circles and other stuff. That might be enough for those math freaks (who I'm not :) to play around with their axioms, but we need something more. If we want to use geometry in the computer, we need a way to store information about it: where, what, when and why things are.

In fact, there's only one type of element in our space: points. We write down points with capital letters: A, B, C, ..., P, ... There's one "special" point in each space: the origin O .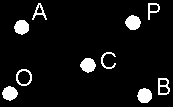 With points, we can make lines, planes, spheres, pyramids, just about anything. So, if we can store points, we can describe all known objects in our world. But how do we do it? We need to introduce vectors first. (Vectors will be capable of representing points, and with points we can make anything.)