very, Very, VERY, *VERY* IMPORTANT!

Now something about contours of polygons or 2D shapes in general. Say, we have a polygon and we need to store it's vertices in an array (we don't know how to do this yet, but say that we could... :). We'd like to do it in a way such that we can run through the vertices, and in that way follow the contour of the polygon. The question is: in what way do we need to store the vertices, to be compatible with other things in our environment?

First, another thing: I think that we all know that we can run in a circle in 2 ways: clockwise and counter-clockwise. But how do we decide which way is the one and which is the other? If you take a clock (of which the pointers go clockwise...), and you look from the back, you'll notice that the pointers run counter-clockwise! So it all depends from which side you're looking. To solve the problem, it's very simply: we say that, in 3D, each polygon has a front and a back (like a clock does). Now, there's still the problem of storing the vertices: shall we do it clockwise or counter-clockwise?

Take a convex 3D polygon (ABCD...Z), and use a point in the middle of it as the "centre". Call that point M. It doesn't has the be the real centre of the polygon, as long as it is in the polygon. The front of the polygon is the upper side (the side you see).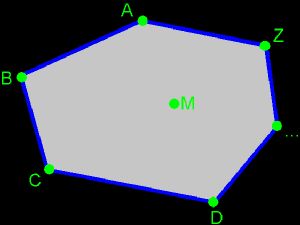 From that point M, you pull vectors to each vertex: MA, MB, ..., MZ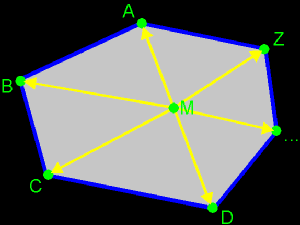 We pick 1 vertex to start with, let it be A. This will be the first vertex of our "storage sequence": P[0]. Now, we want to store the next vertex P[1]. One thing is sure, it has to be a neighbour of A. But shall we pick B or Z? To decide that, we construct both cross products MA×MB and MA×MZ. We find out that the first one MA×MB pops to the front, and the second one sticks to the back. We choose to take the first one, because of that "to the front" thingy.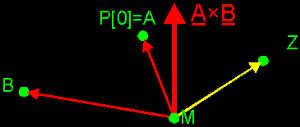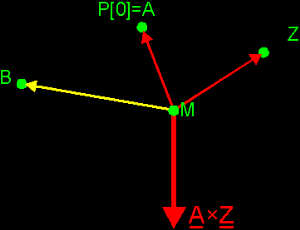 We have P[1]=B now. What will be P[2]? Of course, we can't take A because it's stored already, so we need to pick C. And so on, until you reach Z. But even if you would decide this with the cross products, then you would find out that you need to choose C. In fact, for each 2 succesive points P[i] and P[i+1] you take, you will find out that MP[i]×MP[i+1] sticks to the front. Try this out!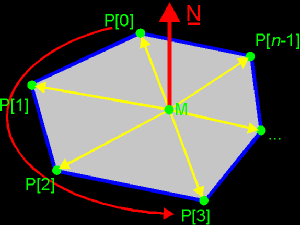 And all these cross products are perpendicular to the surface of the polygon. These is logical, because MP[i] and MP[i+1] lay in that surface, so MP[i]×MP[i+1] must be perpendicular to the polygon.

Between all vectors that are perpendicular to a polygon, there's 1 special: the normal vector:
° it is perpendicular to the surface
° it has magnitude 1 (it's normalized)
° it sticks out to the front
° it has the same direction and sense like each MP[i]×MP[i+1]
° it's called N

This normal vector is something you need to remember. You will use it often. Just imagine it as a unit vector that starts somewhere in the polygon (it doesn't matter where exactly) and stands perpendicular to that surface.

You can remember all this in short with next image. You simply imagine the normal vector of the polygon and you lay your right thumb along it. Now if you close your hand, you will find the sequence in which you need to store the vertices. Or otherwise, if you close your hand in "correct" way, you find the normal vector with your thumb.

Also, this "hand" trick can be used on concave polygons. The trick with the cross products can't. Can you see why?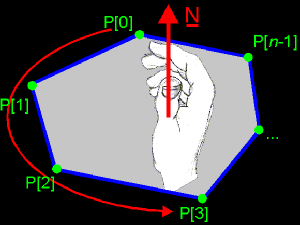 What has this to do with a corkscrew? Well, some people use the following trick, if you want your corkscrew to go in the N sense, you need to turn it in the given way. Or something like that... Anyway, everybody knows the hand-trick as the rule of the corkscrew.

Of course, if you're working in a lefthanded system, you need to use your left hand instead of the right one...