As for the cartesian equation for a line, we want some kind of a test that tells us if a certain point P(x, y, z) lies on a plane. What we really want is a method in which we can feed known points or known direction vectors of the plane, which results in a cartesian equation. For example, we want to be able to find the equation for the plane that goes through exactly three points. But we also want to find the equation of a plane of which we know exactly one point and two direction vectors. The way to do it is quite difficult to explain since it needs the homogeneous representation of 3D geometry (which actually uses 4D geometry). So I won't explain it in detail ...

The trick is to consider our 3D plane as the intersection of two 4D hyperplanes. One represents our 3D space and consists of all points P(x, y, z, w) with w = 1. The other goes through the 4D origin O(0, 0, 0, 0) and is the "extended version" of our plane. This extension is simplified as the following: every 3D point gets an extra component value w = 1, and every vector gets an extra component value w = 0. Then we use a test that demands that four 4D points *and* the origin lie on exactly one hyperplane. This is a well know test for everybody who uses this homogeneous representation of 3D geometry, but it's beyond the scope of this chapter to explain where it comes from. The test however is very simple: you take one 4x4 matrix and fill in the four points. Then you take the determinant of that matrix and you demand it results in zero.

OK, but how do we use it? You fill in four things for our 3D plane. The first is the point we want to test: P(x, y, z). Since this is a point, we extend this to 4D by adding a 1 as the w component value. You can find this back on the first line of the matrix. Second, you fill in three things you know of the plane. If it is a point, you also add a 1 as the w component value, but if it is a direction vector, we fill in a 0 as the w component value. The order of the lines doesn't matter, it won't affect the cartesian equation.

I think it's best I give you some examples, isn't it :) The first I'll give you is the matrix you need if you know one point S(s1, s2, s3) and two direction vectors D(d1, d2, d3) and E(e1, e2, e3).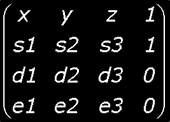 The second example, exactly three points of the plane. These points are A(a1, a2, a3), B(b1, b2, b3) and C(c1, c2, c3).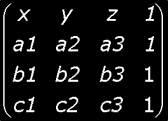 We'll continue now with the first example. Once you have its matrix, you take it's determinant (remark 1) and you demand that it results to 0. You will get the following equation: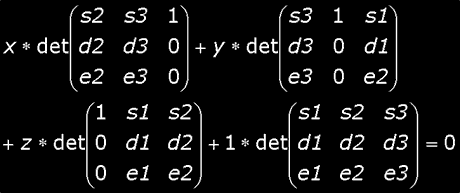 And if you also calculate the determinants of the 3x3 matrices (remark 2), you'll get the following equation which you all may have already encountered. And that's good, since this is the famous cartesian equation of a plane :)





Notice that the variables n1, n2, n3 and d are *new* variables, i.e. we invented these names here and they contain the results of the four determinants. You can also write this equation with the more famous names a, b, c and d





Cool, and now we get smart and recognize a dot product! Put the values n1, n2 and n3 in a vector N(n1, n2, n3), and consider also the vector P = OP = (x, y, z) and you'll get the following short equation. Now you know why I used n1, n2 and n3 instead of the famous a, b and c :)





You probably also recognize this equation, and yes, this vector N is called the normal vector! We'll see later why that vector is indeed the normal vector. So in short: take 4x4 matrix, fill with stuff, calculate some determinants and get the cartesian equation of the line.

Notice that P is the position vector of a point P. We don't immediately use P in the equation, because you can't really calculate the dot product between a vector and a point. In fact, try it. Use the geometrical definition of the dot product which you can find in issue I.02, and try to calculate the dot product. You'll find out you can't. However, what we really want is to do the dot product between N and the postion vector of P! Hence we write P.