A line is actually a infinitely large set of points, and all these points lie on (be surprised!) one straight line. To store a line d (I'll be using bold non-italic small letters for lines), we could save all these points; and yes, we would have represented our line unambigously. However, there are infinitely many points on every line, and no computer memory can handle that. So, we need to use a trick ...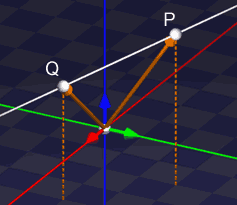 We all know that we can draw exactly one line through two different points (remark 1). Two different lines can only have 0 or 1 points in common. So if we have two points, you can find only one line that goes through these points. If you would find another, than both lines would have more than one point in common. This means both lines are identical and thus it is contradictory that you have found a different one ...

Well, this is not exactly true: two lines d and e can have 0 or 1 or all their points in common. However, if they have all points in common, then they are in fact the same line. A little confusing maybe.

This means that if we take two different points of our line, we have completely represented our line. And now we can say: "OK, to store that line, we simply store two different points of that line and that's it. We've stored our line unambigously". While this is true and can be stored in a finite amount of memory, there's even a better way ...

a) Direction Vector

Consider one point as the support point of the line. You can see this point as the one that carries the line, the one that holds the line at its position. Any point of the line can be used for this job, but you only need one. So you simply pick one. We call that point S, and pull vectors to all other points of the line. Now you're able to reach each point of the line, by adding such a vector to S. "Wait a minute, what are you trying to say?"

Take the line d with support point S and one extra point P. And out of the blue, pull a vector V between S and P. We now know that the positions S and P are actually stored by vectors OS and OP respectively. Thus, of V we know that V = SP = P – S = OP – OS.

Now, consider the situation where we only know S and V, and that we want to reach (= to know) the point P. To do this, we only have to add V to S, and we become P. i.e. P = S + V, or OP = OS + V. I think this is quite clear, but do you realize what it means? From the moment we have a support point S, and all the vectors along the line d, we will be able to reach each point of the line, by adding such a vector to S.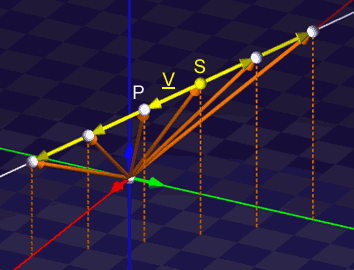 "OK, but you still need a point S and infinitely many vectors. How do you store *that*?" Aha, don't you see that all these vectors have the same direction (not always the same sense, however)?. This means that all these vectors can be written as a scalar multiplication of only one vector D: for each vector V on line d, you will be able to find a real number t, so that V = t*D.

Eventually, you find that each point P of the line, can be written as P = S + t*D, or with position vectors: OP = OS + t*D. This is called the parametric equation of the line, with t as the parameter. Notice that this equation only uses 2 vectors to find all the points of the line: you only need to store S and D to store your line! (Remember that we use the position vector OS to store the position of point S.)

We call this vector D the direction vector: the direction of d is the same as the direction of D. You can use any vector as the direction vector, as long as it is parallel to the line (though, you can't choose the null vector, since it's direction is undefined). So, just choose one as D. In a minute, we'll see that things become a lot easier if D is normalized: i.e. ||D|| = 1 or D is a unit vector.



P = S(2, 3, 4) + 3 * D(2/3, -2/3, -1/3) = (4, 1, 3)



Anyway, a line d with support point S and direction D, has the following parametric representation: P = S + t*D with t Î ]–¥, +¥[. For each parametric equation you can say that it generates points of the object, of a line in this case. If you substitute the parameter (e.g. t=5), then you find a point of the object. For each value of the parameter, you will find another point. e.g. if S=(2, 3, 4) and D=(2/3, -2/3, -1/3), and you substitute t=3, you will generate the point P = (2, 3, 4) + 3 * (2/3, -2/3, -1/3) = (4, 1, 3).

You can write the same parametric equation in many ways. The following are all the same equations: they all represent the same line d with support point S(s1, s2, s3) and direction vector D(d1, d2, d3). They only differ in the way they're written.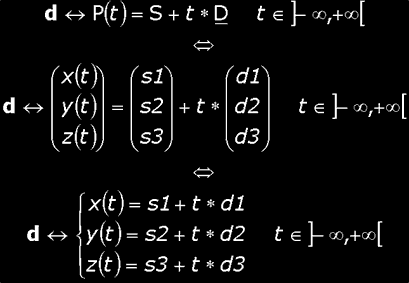 Notice that each line mentions the interval of the parameter t:





This is to make clear that d indeed represents a line. d is indeed the set of all points P(t) for t going from –¥ to +¥.

b) Barycentric Combinations

Although I've said that storing a line by a support point S and direction vector D is better than just storing 2 points of the line, I'll show you now that the latter is also possible and sometimes more elegant.

Consider you have defined your line through 2 points S and R. You choose S to be the support point and you construct the direction vector D = R – S. Now you have your equation P = S + t*D. If you want to use R and S to express your line, the only thing you have to do is to substitute D by what it means: R – S. In this way you get a new equation: P = S + t*(R – S) = (1 – t)*S + t*R. Officially you get:





This new equation is called the barycentric parametric equation of the line. Why? Simple, each point P is expressed by the barycentric combination of points S and R with coefficients (1 – t) and t respectively. Notice that the sum of the coefficients (1 – t) + t = 1, which is required for barycentric combinations.

c) Line Segments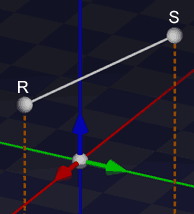 Barycentric equations are a nice way to represent the line segment [SR] between points S and R. If you fill in t = 0, you will get S; for t = 1, you will get R and for every other value between 0 and 1, you will get a point between S and R. Compare this with the definition of a convex barycentric combination: if all coefficients are positive, then the barycentric combination is in the convex hull (which is the line segment in case of 2 points). Here these coefficients are positive if and only if t Î [0, 1].

In this way, you can define the line segment [SR] as like following:





You can check out more information about barycentric combinations here. Especially check out example (c) in paragraph (iv). Does it look familiar to you?

d) Orientation Of A Line

Generally lines are not oriented. If you are the support point S, you can look along the line in two different ways: to one end or the other. If a line isn't oriented, both ends are equally important. There's no discrimination.

However, if you use a line to represent a light ray, you don't want that. This light ray starts at a certain point (the source) and then it propagates in only one direction and sense. And what's more: for every two points of this ray, you can say which one is further away (from the source) than the other one.

Fortunately, we already have the solution. Look at the parametric equation, put the support point S at the light source and point the direction D in the way you want the light ray to go. Now you will find out that the points you want to be part of the ray, are the points with a positive t value. And the bigger the value t, the further it's away from the source.

More generally, an oriented line is a line of which you define one end to be positive, and the other to be negative. This can easily be stored in the computer by choosing the direction vector in such a way that it points to the positive end of the line.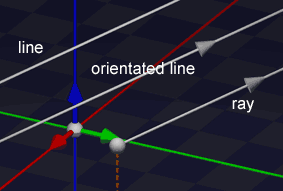 Note: With "the ends of the line", I meant the points at infinity; but it works the same way for line segments.