The best way to imagine a parametric equation of a plane is to think about a line d that is moved parallel along another line e. Indeed, if we move d from one end of e to the other end, we'll have described a surface which is as flat and as infinitely large as a plane. But what is it mathematically?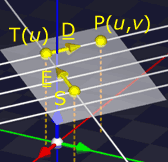 Imagine a line d with a starting point T and direction vector D. It's parametric equation is:





Nothing special about that, except maybe for the weird choice of some letters and the explicit mentioning of the fact that the point P is indeed a function with parameter u.

Apply one trick now: make the start point T dependent on an extra parameter v:





This implies that the support point of the line d can be changed by changing the value v, and hence, the line will be changed too. That's why we also write the parameter v next to the letter d of the line: to indicate that you will have another line if you fill in another v.





Notice also that now the point P depends on 2 variables u and v: the first one indicates the position of the point on the line, the second indicates the line itself. By changing the value v we change the line d. But in what way? Notice that we don't vary the direction vector D, hence all these lines will have the same direction and be parallel to each other.

Apply a second trick now: say that the function for our support point T(v) is nothing more than a point of another line e:





If we vary v from –¥ to +¥, we'll move d along that line e. Hence, d(v) will describe our desired plane:





Notice that we use a "greek capital" S to indicate a plane here. As you can see, the parametric equation of a plane has one support point S(s1, s2, s3) and two direction vectors D(d1, d2, d3) and E(e1, e2, e3). For these two direction vectors, it takes two parameters u and v. This is why we say a plane is a 2D object: it takes 2 parameters to identify 1 point of the object. Other notations of the *same* parametric equation are: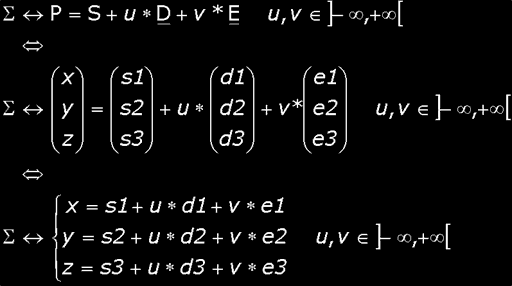 Remark: Convince yourself that d and e can *not* be parallel. If they do so, then they will be automatically coincident (= be the same line), since they share at least point T(v). Hence, you would end up moving d along itself. You can imagine that you would never describe a plane that way. If you don't understand that, check out issue II.2, paragraph (ii) on relations between lines.

An Example: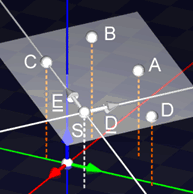 A = P(2, 1); B = P(5/2, 3/2); C = P(0, 2); D = P(-2/3, 3/2)



An Exercise: You have a plane S <-> P(u, v) = S + v * E + u * D with S(7, –1, 3), D(2, 8, –6) and E(–1, –4, 3). Find the coordinates of the points P(2, 3) and P(5, 9)? What do you notice and how can you explain it?

To have a 2D object like a plane, there may only correspond *one* (u, v) pair with each point of the object. If this is not the case, like in the exercise, you will not have a plane, but a line. And not a very good line! A line is a 1D object and takes only one parameter. Here you will use two, and every point of the line will correspond with infinitely many (u, v) pairs.

Exercise: Try to find other (u, v) pairs for that same point of the previous exercise. For each value of u you think of, you will be able to find another v. Can you find a function v(u) that returns the corresponding v for each u? Try to find a function u(v) too. Notice that this function depends on that particular point. If you take another point, e.g. (5, –9, 9), then you will find other functions. Try that too!

You can imagine that this is not a very good thing! So, always be aware that D and E can *never* be parallel.