The intersection of two lines (or two objects in general) is always a bit tricky, because you can't simply return one point as the intersection. For example: two lines can have no points in common (crossing lines, parallel lines), all their points in common (coincident lines) or exactly one point in common (intersecting lines)

The first situation is easy to detect: if the distance between the two lines is not zero, then there's a gap between both lines. And that means they can't have any point in common. And the answer is as simple: there are no intersection points.

The second situation is almost as easy to detect: if the distance between the lines is zero *but* the direction vectors are parallel, we have coincident lines. In that case the answer is also simple: all the points of D (or E) are intersection points, since they have all points in common.

If it isn't the first or second situation, we are sure we're in the last situation: intersection lines. And only then we can return what we're looking for: the intersection point.

This is a lot of information to return through the return-value of a function. I've decided to return the number of intersection points through the return-value. And if there is an intersection point, I return the parameters for that point through t and u. These parameters will give you the exact intersection point if you substitute one in its equation (of course, both equations will result in the same point, that's the definition of the intersection point :). Why don't I immediately return the intersection point instead of t and u? This is because many times you need the parameter instead of the exact point, and it's easier to find the exact point using the parameter than finding the parameter using the intersection point.

First, I'll give you the pseudo-code. And after that, I'll explain how you find t and u.



// ---------------------------------------------------------------------
// FUNCTION TO FIND THE INTERSECTION OF TWO LINES.
//
// Several cases to handle:
// crossing or parallel lines: return  0, t and u contain no information
// coincident lines          : return -1, t and u contain no information
// intersection lines        : return  1, t and u contain parameters of 
//                             intersection point for both lines
// ---------------------------------------------------------------------

int intersection(const line d <-> S + t * D, const line e <-> R + u * E,
                 float& t, float& u)
{
   // distance between d and e must be zero to have points in common
   if (dist(d, e) > 0)  return 0;

   // cross product of direction vectors   
   N = D ื E;

   // if direction vectors are parallel, we have coincident lines
   if (N == 0)  return -1;

   // else, we have exactly one point in common
   // find the two parameters t and u for it.

   // vector between origins of lines:
   SR = R – S;

   // Solve with cramer
   // Use minor with largest determinant.
   if (abs(n3) > abs(n1)  &&  abs(n3) > abs(n2))
   {
      t =   (sr1 * e2 - rs2 * e1) / n3;
      u = – (sr1 * d2 - rs2 * d1) / n3;
   }
   else if (abs(n1) > abs(n2))
   {
      t =   (sr2 * e3 - rs3 * e2) / n1;
      u = – (sr2 * d3 - rs3 * d2) / n1;
   }
   else
   {
      t =   (sr3 * e1 - rs1 * e3) / n2;
      u = – (sr3 * d1 - rs1 * d3) / n2;
   }
   return 1;
}


Once we know we're dealing with intersecting lines, we still need to know t and u. This is done by demanding that if the correct values are substituted, both equations for d and e result in the same point: the intersection point. Doing this is very easy: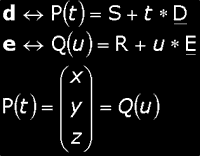 or after splitting up each equation of a line in three different equations, one for each component value:





This system contains 3 equations and 2 unknowns t and u. Since we already know we'll find exactly one solution, these equations can't be contradictory and that we can leave one equation. For now we'll leave the last one. After some rearranging we become the following:





We can solve this to t and u by using Cramer and we get the following results (remarks):





Notice that the denominator is nothing else than –n3, the negative of the third component value of N = D ื E. If we take this in account and we write SR(sr1, sr2, sr3) = R(r1, r2, r3) – S(s1, s2, s3), then this simplifies to the following:





In this case, I've chosen to dump the third equation and to continue with the first two. This is not always a good choice. In fact, always dumping the third one can lead to an unsolvable situation in certain cases. When does this happen? Look to the previous solutions for t and u. What happens if n3 becomes 0 (zero)? Precisely. We get a nice division by zero. And we don't want that, do we?

To examine this, we'll take a look at the three different outcomes as we leave out each time another equation. The first one leaves out the first equation, the last one the last:





All three lead to the same result, in theory. In practice, some may become undefined because their denominator becomes zero. Which one to pick then? I say: choose the one with the largest denominator (in absolute value). If abs(n1) ณ abs(n2) and abs(n1) ณ abs(n3), then pick the first one. We can be sure that n1 won't be zero, because otherwise we would have the nullvector for N. And since we assumed that D and E are not parallel, we know N can't be the nullvector.

Of course, you can make this algorithm a little faster by inlining and hardcoding dist(d, e). In that way, you'll be able to avoid a cross product: you also need N = D ื E to calculate the distance between d and e

That's it for our lines. Thank you Nick for proof-reading this.

See you all next week, same time, same channel,
Bramzistor Radio