| | | |
| --- | --- | --- |
| | Submitted by , posted on 31 July 2002 | |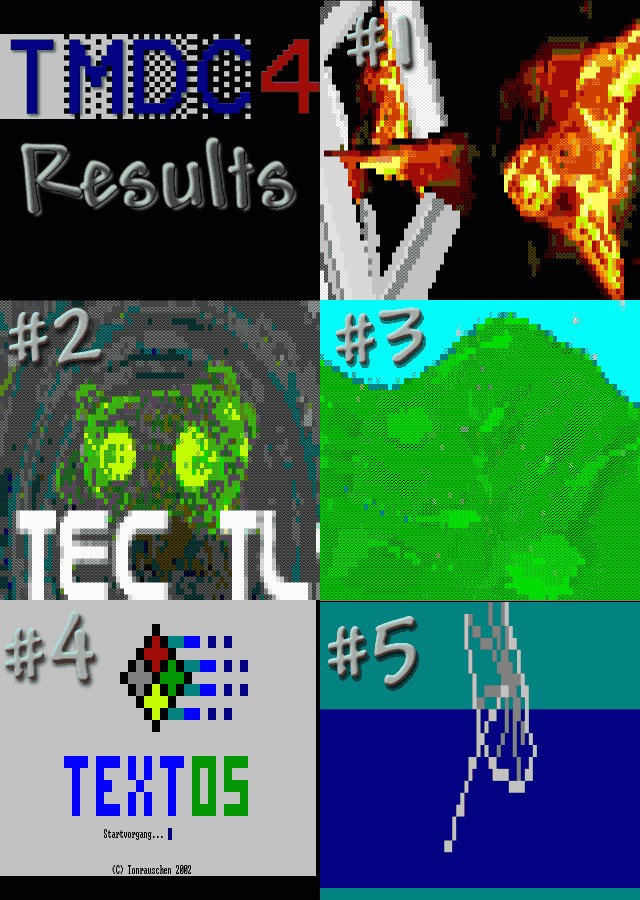 Image Description, by




Text Mode Demo Competition 4 is over.

Text mode demos offer unique challenges for the demo maker which play a very insignificant role in other kinds of demo competitions. First of all, resolution and color spaces are rather limited, forcing the demo authors to consider different forms of anti-aliasing and careful adjustment of contrast and color balance.

Contrast and color balance play a very large role in describing depth, as can be seen from the above screenshots - you can clearly see that the winner has succeeded in this much better than the others.

Here are the results -

1. Super Killer by dairos, nula, para, raist, stonda, tpp
http://taat.fi/tmdc/demos/superkiller.zip

2. contact by portal project
http://taat.fi/tmdc/demos/pp_contact.zip

3. flowres by Numedia Cyclops
http://taat.fi/tmdc/demos/flowres.zip

4. TextOS by Tonrauschen
http://taat.fi/tmdc/demos/textos.zip

5. Holiday by Tonrauschen
http://taat.fi/tmdc/demos/holiday.zip

The competition pages are at http://taat.fi/tmdc/

All of the demos run under Windows2000 console, being the first batch of textmode demos to do so. If you missed the contest, don't despair - TMDC5 will be held this year, as well, and the deadline is the more traditional 11.11.02. More information will be published on the www.taat.fi website closer to the deadline.