Let's consider a single column of pixels. As we saw previously, we can associate to it a ray through the heightmap. We start the interpolation at the origin, where the camera is. Then at regular intervals along the ray, we retrieve the altitude from the heightmap, and project that onto the screen with the standard projection equation:
Ys = ( Yv - Ye ) * Yk / Z + Yc

Ys: coordinate projected onto the screen
Yv: altitude of the voxel column
Ye: coordinate of the eye
Z: distance from the eye to the considered point
Yk: constant to scale the projection, possibly negative
Yc: constant to centre the projection, usually half the screen resolution

Having computed the coordinate of the projection point, we compare that with the highest point drawn so far. If it's higher, then the column of voxels is visible so we draw it.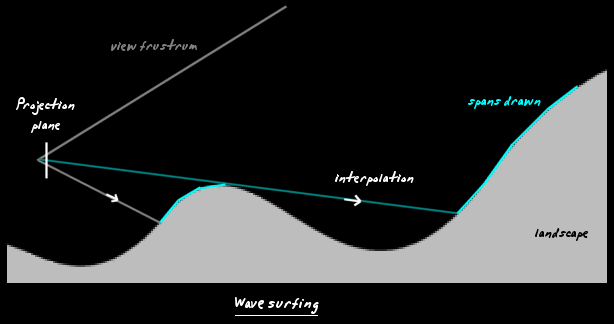 This diagram should make things clear. When we start interpolating, the voxels aren't visible on the screen. Then we continue scanning along the ray until the voxels project onto the screen. They will remain visible until the landscape dips, at which point we interpolate without drawing. We just surf along to the next mountain, and draw that. So the visible mountains will get higher and higher on the screen, but most likely they will average out at the middle of the screen, where the horizon is. If we ever get to the top of the screen, we can stop interpolating since however high the following mountains are, they will never be visible.