Synchronization is extremely important because it makes sure that what you are seeing on your screen is the same thing as everybody else which means that if you shoot someone with a missile they're actually there to get hit. At first this problem seems really easy to solve: make the server keep a copy of everything going on in the game and have the server update players as necessary. This also prevents players from most forms of cheating, depending on how you design your messages (more on that later).

As I said, at first the problem seems pretty straightforward. Here is where lag becomes your mortal enemy. Consider this picture: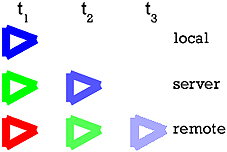 At time t1 the local client (you) start to move forward. The message is sent through the network and a little latter (at time t2) it arrives at the server. At this point the server copy starts moving forward. Unfortunately it is already behind the actual position because it was late getting the message and always will be. Now the server broadcasts to all clients that you have started moving forward. Every client, including you, receives the message. Effect: all clients are now behind the SERVER. Worse still, your ship tried to compensate for the difference between the server message and your current state by "jumping" your ship to where the server said it should be. So what happens is you see everyone else's ships at a slightly old position, plus your player's movements are jerky and confusing. The solution comes in two parts.