If you want to implement classes in your language, decide exactly which features you want to support. Supporting full C++ classes, including multiple inheritance, access restrictions, dynamic casts, virtual functions, etc. is very hard and I don't recommend starting with all that. A simple class system with single inheritance is a good starting point. You can always expand it later if the need arises.

Classes, and structs, are compound data types: they contain a number of data members, and are linked to a number of methods or member functions. You could store a member list in your symbol table, which links to other symbol table entries that are the separate members. This allows you to easily find the offset of a member in the structure.

Inheritance
Single inheritance is relatively easy: when you're looking for a member in an object, check whether the member's in the child class; if not, check its parent class. The memory layout for child classes is very simple: first you store the parent, then its child, another child, etc. So downcasting is implicit: if you treat a Cat pointer as an Animal pointer, that simply means your program has access to fewer members, but the address of the pointer need not change.

Multiple inheritance introduces ambiguity problems when calling member functions or accessing data members. Consider this: Two classes 'B' and 'C' are child classes of the same class 'A'. Then someone creates a class 'D' that's derived from both 'B' and 'C'. Now, if class 'A' has a public member function DoSomething, and the programmer calls DoSomething on an object of type D, you don't know which of the two DoSomething's to call: the one that acts on the 'A' part of 'B' or on the 'A' part of 'C'.. Okay, maybe a picture will make it clearer: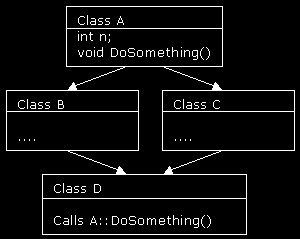 Virtual functions
Virtual functions are a way of creating polymorphic (lit. "of many forms") types; e.g. an Animal class that contains a virtual function MakeSound(), and child classes Cat and Dog that each implement these functions in a different way (I'll let you figure out how exactly they would implement them ;-). So when you call the MakeSound function of an Animal object, you don't know (and don't need to know) what kind of animal is making a sound.

Virtual functions are implemented by creating a so-called vtable. When the parent class declares a function as being virtual, it's added to the vtable for that class. Each child class now gets its own version of the vtable, so that, although the caller sees no difference between the tables, different functions are called based on the object's actual type.

Dynamic casts
Dynamic casts can be handy: for example, in UnrealScript you can not only downcast an object (cast it to its parent type), but also upcast it (cast it to an object of a child class), if the object is indeed an object of the child class. This means you need a way of determining whether an object of type Parent is really a Child1 object that's been cast down (in which case it can be cast up) or a Child2 object (in which case it can't be cast up). In the latest C++ compilers you can do the same with the dynamic_cast<...> operator. How to determine this? Each object will have to have a unique identification number, perhaps an index to a table of classes and their parents. By using this number you can always tell what kind of object it really is.

Type variables
Another fun thing is to allow type variables. This allows you to dynamically create objects of variable types. An example. Say you have a game with a cloning machine. An enemy walks in and two identical enemies walk out. You could use a big switch statement that contains all possible enemies, but that's not a very extensible approach. So you store the enemy's type and tell the game to create a monster of that type. In some imaginary language's code:



TypeVar<Enemy> enemytype;           // A type variable
enemytype = typeof (monster);       // Get the monster's type
Enemy *newmonster = new enemytype;  // Create a new monster of the same type
 


You can pass type variables to functions; this will make them very flexible indeed, as you can use the same function to create and manipulate many different kinds of objects!

For type variables you need to expand the table of classes and their parent class to include every class' size; otherwise you have no way of dynamically creating them.