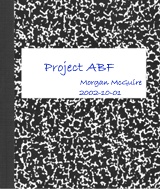 Although I do organize it, I don't feel any obligation to make it look pretty to others because I'm the only one who uses it. I use a physical notebook rather than an electronic log because it isn't subject to crashes, data corruption, or any of the other problems that can happen while debugging. It also is nice to be able to pick it up and work away from the computer. The black and white composition books work nicely—they have hard to remove pages, are sturdy, and the covers are slightly coffee-proof. Having hard to remove pages encourages me to not try and over-organize by rearranging material later or removing notes. Keeping the journal is a tool, not my full time job.

The journal has several purposes. I keep the very top of my to-do stack in the log as a series of checkboxes (every entry in the to-do stack is kept on the schedule as well). This helps me avoid forgetting small tasks that I discover while looking at a particular piece of code. For example, I might notice that two functions look remarkably similar and could be collapsed into a single templated function. I don't want to change them immediately because I'm still trying to get my previous change to compile, so I add unifying the two functions to my quick to-do list to make sure it happens.

Having the log book makes it easy to jump into work first thing in the morning. I flip it open and see the top of my to-do stack, notes on the current task, and my last thoughts from the previous day.

When a bug occurs, I describe the bug in the journal. When I fix it, I write down the cause and solution. This is very handy when something similar comes up (usually with bizarre compiler/linker errors) and I can't remember how I fixed it last time.

I do all of my scratch calculations in the journal for record keeping purposes. I can return to a derivation or calculation to verify correctness if it is later questioned.

I describe my progress on implementing features in text, sometimes augmented with code and screen shot printouts. This is a nice motivational tool because I can see how far I've come. It is an easy way to demonstrate a particular aspect of the program to someone else when asking them for help. Having code printouts and key algorithms in the log it is also a worst-case backup. If all of the critical, hard-won routines are in the log, then I can always re-type them if something catastrophic happens to my computer.

Finally, the development journal can be important for establishing the creation date for patent purposes. Employers like this property, but it gives me concern. The primary purpose of the journal is to accelerate my workflow. If it has the potential to be used in legal proceedings, that adds pressure to keep the journal excessively neat and makes it substantially less personal. I think the role of establishing an invention date should be left to the specification documents and revision control logs which are published in a company as public documents.