DirectShow is set up with the ideas of a number "filters" joined together to create a "graph". Here's a visual representation of the graph an filters using a utility that comes with the DirectXMedia SDK, called GraphEdit: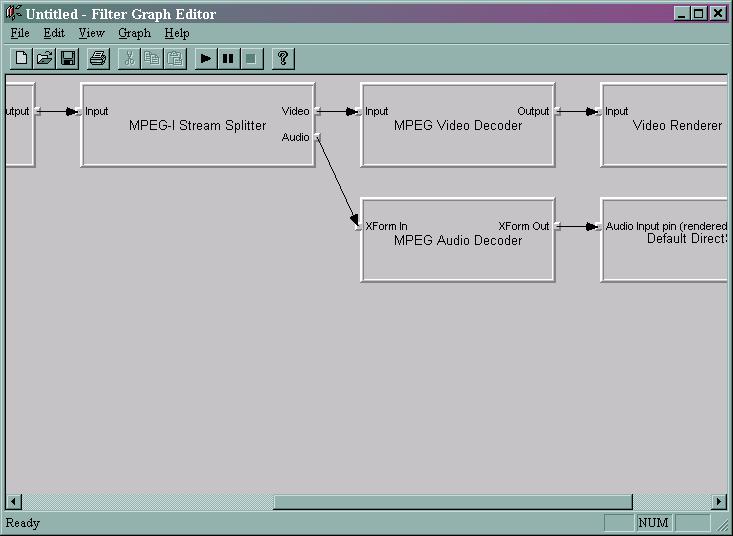 Each box represents a filter. Arrows connecting boxes represent the output of one filter being passed to the input of another filter. Arrows also show the flow of data in the graph. GraphEdit is nice for those just getting started with DirectShow, as it gives a nice visual equivalent to what you'll be doing in software. GraphEdit also lets you drag filters around, connect them to other filters, and to run your final complete graph.

Each graph that is built follows certain guidelines. First off, there needs to be a source filter. This is the initial source of your data, be it a file, a URL for streaming media, or some device such as a firewire card hooked to a video camera. The output of the source filter is then run through any number of transform filters. Transform filters are any intermediate filters that take a certain type of input data, modify the data coming in, then pass the modified data to it's output. The final piece of a graph is a renderer filter. Renderer filters are the final destination of any data handled in a filter graph. Renderers can represent things such as a video window for displaying video on the screen, sound card for outputting sound, or a file writer for storing data to disk.

The way that filters are connected in a graph is through their "pins". Every filter, no matter what type, must have at least one pin to connect to other filters. When attempting to connect two filters, the pins on both the filters pass information back and forth to determine if the downstream filter (the one accepting data) can handle the data passed in by the upstream filter (the one sending data). If the pins successfully negotiate a data type they both know, a successful connection has been made between the 2 filters. As you can see in the image above, a filter is not restricted to a number of inputs or outputs, and many times a filter will require more than one input or output for the data being handled. For example, the MPEG-1 Stream Splitter filter needs to send the audio and video portions of MPEG-1 data to separate decoder filters.

DirectShow is distributed with a number of filters provided by Microsoft, including source filters, transform filters, and renderer filters. They provide us with a useful "File Source Filter" that we can use for reading in any type of file, transform filters capable of handling MPEG-1 video, AVI video, WAV audio, and other formats, and finally, renderer filters for outputting sound and video. For standard formats, the filters provided by Microsoft may be all you need for playback.