Those of you familiar with my previous work will know that I used to build my engine on top of some form of spatial subdivision scheme. Basically I would store polygons in an octree or kd-tree of some form. Well, I have changed my mind. Spatial subdivisions are still the way to go if you want performance that does not depend on overall scene size. However, these structures are not suitable as a basis for scene data. While they do subdivide space, they do not deal with object relations.

For my previous job (at Davilex Software), I worked quite a bit with the NetImmerse 3D engine. The core of this engine is a scenegraph: A tree-like structure that represents the game world and the relations between objects in the world. Imagine a city (root node) with cars driving around in it (childs of the roodnode) and moving wheels on the cars (childs of the car nodes). Storing this scene in the scenegraph is very intuitive. Besides, the way scenes like these are rendered, using concatenated transformation and translation matrices, matches the structure very well. You gotta love the beauty of scene graphs.

NetImmerse takes the whole concept a bit further: You can put all sorts of things in the scenegraph, like cameras and lights, rendering properties, animation stuff and so on. While that's currently beyond the scope of what we need, it's good to know that there's plenty of room for expansion.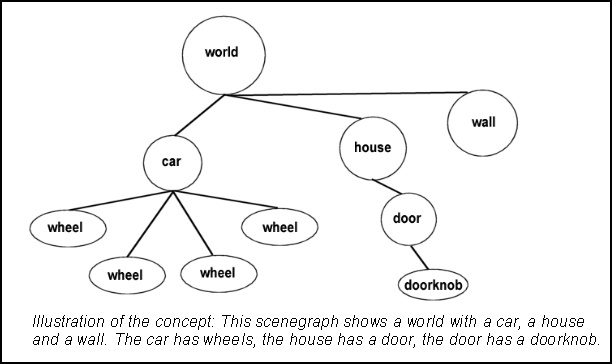 So, I decided to implement a simple scene graph. The main structure is called 'World' in my 3D engine. The world has one root node. Each node, including the root, can have any number of child nodes. A node has a matrix and can have zero or one meshes; when a node has no meshes, it's apparently only created to group a couple of meshes or nodes. A mesh refers to polygons and a texture. Polygons refer to vertices. A vertex has an UV-coordinate and a coordinate, wich holds the position in object space, the transformed position (in camera space) and the projected coordinates (in screen space). That's the data structure in a nutshell.

Note that the engine uses polygons with 3-10 vertices. There are a lot of good reasons for this:

Each edge needs a couple of divisions during rasterization; you have to interpolate 'x', and probably also 'u' and 'v'. A quad thus saves at least two divisions compared to two triangles. There are less horizontal spans to be rendered, and although you still draw the same number of pixels, you can skip a lot of (expensive) setup code. Quads look better than triangles. When drawing triangles, you will notice that all spans are not only parallel in screenspace, but also in texturespace. While this can be exploited to save a lot of divisions, it also emphasizes the artifacts of affine texturemapping (as opposed to perspective correct texture mapping). Larger polygons can be stored more efficiently and make simpler BSP trees. And finally: Fewer polygons means faster collision detection.