| | | |
| --- | --- | --- |
| | Submitted by , posted on 01 November 2002 | |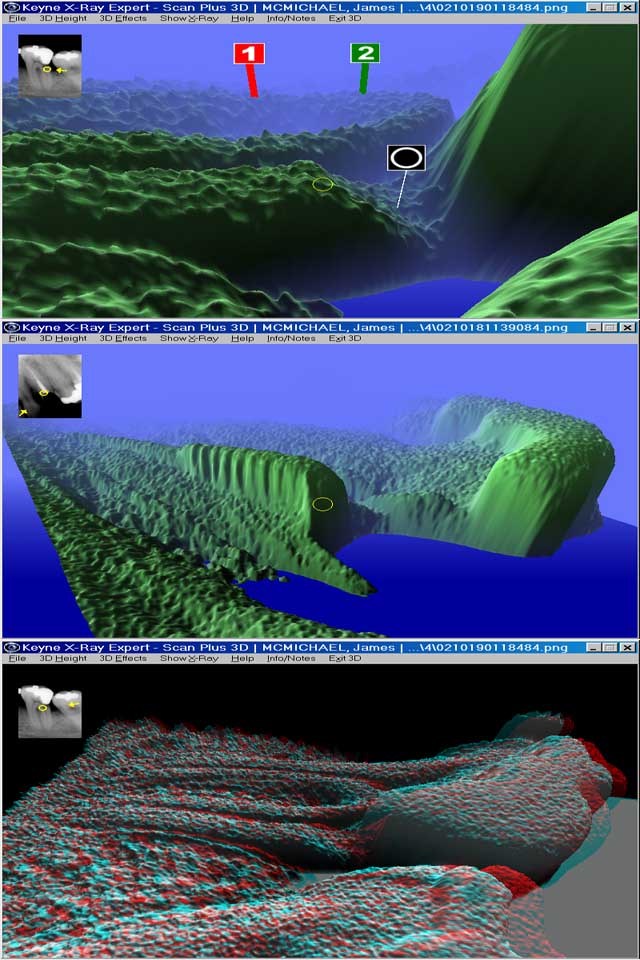 Image Description, by




I thought you might be interested in unusual uses of a games engine.

These are precision terrains (one height_Pixel / Vertex) made from Dental X-Rays! 512 * 768

The Top shot shows the use of Dynamic Pixel-Fog. The fog's near and far points are dynamicly calculated frame by frame from mouse-picking. This brings out the object of interest from the background. Useful for Dentists but I guess useful for games - especially if you use BLACK FOG - very spookey.

The bottom one is the same X-Ray in anaglyph mode (Red/Green, Red/Cyan and Red/Blue Glasses work). It uses a render surface for one eye and normal render for the other eye - blended to screen. This flys at 85 FPS limited by and syncronised to the Vertical Refresh Rate.

This was made in Truevision3D 5.8. I can't wait for TV6! Lots of new stuff in there!

Thanks are also due to Sylvain, Arli and Darqshadow of the www.truevision3dsdk.com engine for help with this project and to Chris Parker and Scott Plante (also of Truevision) for providing the motivation to finish it.