| | | |
| --- | --- | --- |
| | Submitted by , posted on 15 September 2004 | |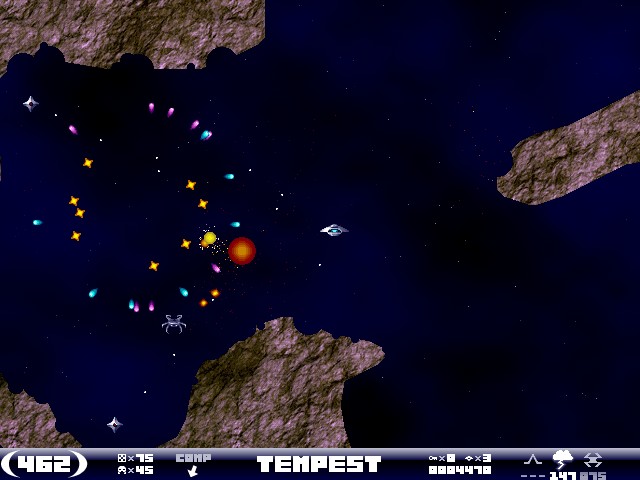 Image Description, by




Storm is my first shareware game, an arcade style mission based shooter with 50 missions and 24 different weapons to collect.

Storm features a few new game and techincal features:
8 way directional thrust and 8 way directional firing for superior control of your ship.
Fly in arcs and circles around enemy ships and mines, firing at them from different directions.
Pixel perfect collision detection for all sprites.
Completely destructable terrain with subtle colour transitions.
Huge scrolling missions with parallax background and starfield effect.
Opposing weapon shots can collide and explode, while explosions damage anything.
Options to use Keys, Mouse, Mouse/Keys combination or Joypad.
3 different firing systems and redefinable keys/buttons (including dual stick joypad support).
Encounter different Enemy mines, ships, guns & lasers as you explore valleys, caverns and Enemy Bases.
Multiple missions to choose from. with 3 Difficulty levels and a continue game option.
Hours of gameplay..
Storm was programmed in C using the open source Allegro Library. There is a free 9 mission demo of Storm available from the website and the full game is available for $19.99 from my website or BMT Micro.

http://www.reflectedgames.com
Richard Phipps