| | | |
| --- | --- | --- |
| | Submitted by , posted on 01 April 2002 | |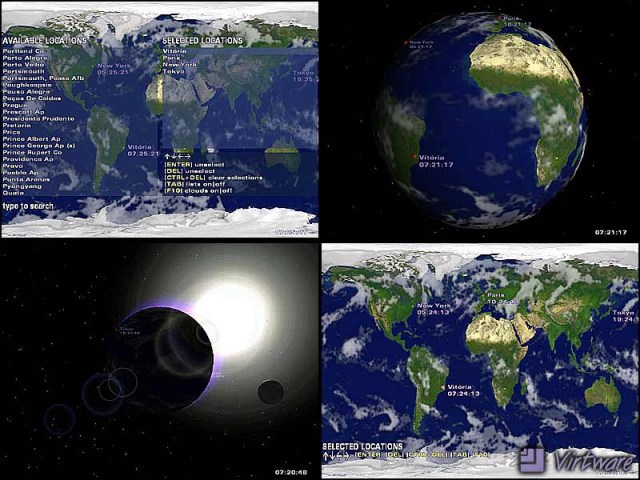 Image Description, by




These are some shots from my last little project, called WorldMap 3D. This started just as a simple test of my game system, but I got excited and decided to finish something more usable.

The main features are:
Correct Earth orbit around the Sun;
Based on some orbit predictions, "correct" Moon orbit around the Earth;
Real clouds (yes, REAL), updated automatically from satellites;
Shows any of 1300+ pre-included locations around the world;
Built-in locations manager that can add/modify/remove locations;
Shows the approximated time of any location;
6 pre-defined, configurable cameras plus 1 draggable user camera;
Sun causes overbrights, glowing and lens flares;
Many items are configurable both inside the application itself and an external configurator;
Can run as a normal application (windowed or fullscreen) and/or as a screensaver;
Runs theoretically under Win98/Me/2K/XP, DirectX 6.1, 3D card required.
Direct download from http://www.virtware.net/downs/setup_worldmap.exe

Please visit my site at http://www.virtware.net and send me your comments, suggestions and flames! =)

I want to thank DooMWiz here because this guy alpha-tested the WorldMap after some insistence from my part in the IRC, heh. =) Hey, Doom, thank you after all!

Peace,

Vander Nunes